Elementary school parties can be so much fun to host if you have the right indoor party games for kids. You get to see your child in the classroom & put a face to all the names you hear at home.
What I am not such a big fan of is coming up with easy party games that all the kids will enjoy and are quick to make.
So, I have created a list of easy kids' party games that any room parent can put together quickly. These fun indoor party games can be used for events any time of year from Halloween, to Christmas (Winter), Valentine's Day, and End of the Year Parties.
I'll also show you how to adjust each of the games for different seasons too. Take a look at this list and find the perfect party games for kids at your next school party.
This post may contain affiliate links. If you choose to buy something using my link, I earn a small commission at no extra cost to you. For more information, see my disclaimer here.
Easy Elementary School Indoor Party Games for Kids
Indoor Party Games for Kids
The following are fun games to play in person at school parties or at your home. If you need to social distance this year many of the games you can space the kids out or visit the post below for virtual ideas.
Fun Halloween Social Distancing Ideas – 24 Family Halloween Activities
Christmas Social Distancing Ideas for 2021 – Fun Things to Do with Your Kids During the Christmas Season
Virtual Party Zoom Games for Kids – Zoom Game for School Parties.
Don't have time to plan a party? Well, you don't have to with My Classroom Party. It's a holiday-themed school party in a box with 3 games, 1 craft, and decorations. Everything you'll need to throw an easy and fun class party. It's the ultimate busy mom hack!
Freeze Dance
All you need is your phone with music and maybe a speaker. The kids have tons of energy at the school parties and are always ready to dance around. This is a great way to get their wiggles out!
Limbo
What You Need – a long stick and some music
Super easy and fun game. Download some kid's music on your phone to play. Have two people hold a long stick and the kids line up behind it. The kids then try to go under the stick without falling or touching it.
Each time the kids come around lower the stick a little until there is one child left. They are the winner.
Here's a blow-up limbo stick that would be easy to bring to the school.
Would You Rather
What You Need – Would You Rather Printable Questions
Kids love playing the Funny Would You Rather Game for Kids. Ask the kids silly questions like Would You Rather have bad breath or stinky feet or Would You Rather eat worms or beetles?
Kids can raise their hands to vote or yell out their answers. Then find out why they'd eat a worm instead of a beetle. The answers are the funniest part!
Grab your free printable list of Would You Rather Questions for Kids
Try these themed Free Printables too – Would You Rather Christmas, Would You Rather Teens & Tweens, and Would You Rather Valentine's Day
Bozo Buckets
What You Need – 4-5 buckets and items to throw
This is another game easily customizable to the time of year your party is held. If you have a Halloween party get some plastic pumpkin buckets the kids trick or treat with and some fake eyeball ping pong balls. (I get these at the dollar store)
For a Winter or Holiday party use red or blue buckets and white fake snowballs. Line up 4 or 5 buckets and have the kids try to toss the balls into each bucket.
For Valentine's Day use heart-shaped buckets and bean bags. And for End of year parties just use colorful buckets and bean bags.
Related Article – 5 Halloween Mystery Boxes for School Parties
Escape Room Games
Challenge the kids with a fun escape room party. They are hugely popular right now and a really fun activity to play in the classroom.
Two of our favorite printable games to use are the Escape Room Geeks or Lock Paper Scissors. Each kit has a suggested age range and comes with a printable storyline, puzzles, and clues for the kids to follow.
You can visit our full review of the best printable escape room games for kids to pick out the perfect game for your kid's age group.
The best part is you just need to download the game, print it out, and play. It's that easy! Plus the kids will have a blast playing together in teams.
Hallway Obstacle Course
What You Need – 4 hula hoops, paper cut-outs, 8 cones, 4 bean bags
This game may need to be played in the hallway at school. First, create cutouts with a poster board for the kids to jump to.
For Halloween parties cut out pumpkins, for winter parties do snowballs, valentine's day parties do hearts.
There will be two obstacle courses next to each other so the kids can make two lines one for each team. Both sides will be identical.
First kids jump from cut-out taped to the floor to cut out, next they weave between cones, and last, they need to toss a bean bag into two hula hoops.
After the bean bags are in they need to go back through the course and let the next kid in line go. Whichever team gets all their players through first wins.
You can easily adjust the obstacles in this game to whatever you have in your home or classroom. This is just an example of a course.
Charades for Kids
Kids will love this fun game of Charades for Kids plus it's super easy to run for school parties.
First, print out our Free Printable Charades Ideas for Kids with 144 Words & 8 Categories to choose from. There is a Halloween & Christmas category too.
Then break the kids up into teams. You can do two larger teams or if you have a lot of kids maybe make 4 teams.
Have a bowl with the printed-out Charades words for the kids to pick from when it's their turn.
The first player on a team has 1 minute to act out the word on their paper. If their team guesses the word before the 1 minute is up their team gets 1 point. If they don't guess the word the other team has one chance to guess the correct answer and win the point.
Trade-off between teams taking turns until all the students have had a chance to act out a word.
The winning team has the most points at the end of the game.
Make it a Christmas Game with our Funny Christmas Charades Ideas for Kids.
Bingo Games
What You Need – Bingo cards and chips to cover the cards
This is a fun and quick game to calm down the kids after the more active games. It's also a really easy game to social distance in classrooms.
For Halloween Parties grab our FREE Printable Halloween Bingo Cards.
For Christmas grab our Free Printable Christmas Bingo Cards.
For Valentine's Day grab our Free Printable Valentine's Day Bingo Cards
For Easter grab our Free Printable Easter Bingo Cards
Detective Games
Plan a fun Mystery party with exciting Detective Games for kids. Tell the kids a detective riddle and have them write their answers in invisible ink to create secret messages. While it dries play escape room games, or have a teddy bear scavenger hunt with clues.
You'll find tons of ideas in our Mystery & Detective Games for Kids.
Balloon Keep it Up
What You Need – A balloon for each child in the classroom
This is a fun and simple balloon game for kids. Each child is given a balloon and then the kids space out around the room. When you say go they need to try and keep the balloon up in the air without touching the ground.
The last student to keep the balloon up in the air wins the game.
Winter Party Games
Fun games to play at winter parties in the classroom.
If you are throwing a Christmas Holiday party use our Free Printable Christmas Games. You'll find tons of Christmas-themed printable games perfect for school parties.
Ice Cube Relay Race
What You Need – Square Foam blocks as your ice cubes – (look at the dollar store by fake flowers)
Divide up kids into two teams, then line them up for a relay race. Kids need to put the "ice cube" between their knees and race around a cone or chair then come back and pass the block to the next kid in line.
See which team can finish first. We did this at a family holiday party and it was tons of fun too!
Snow Ball Toss
What You Need – clear plastic cups, white ping pong balls
The Players need to toss the snowball (ping pong ball) into the plastic cup. If you're playing this on a table save room by line cups up in triangle form like bowling pins.
To make it harder space the cups further away. See which child can get the most ping pong balls into the cups.
Minute to Win it Kids Party Games
Minute to Win it Games are really fun party games because you can rotate through the groups of kids quickly so that all can play in a limited amount of time. Perfect for quick classroom parties.
Here are a few favorites but if you want more ideas check out 20 Easy Minute to Win It Games for Kids and at the Holidays try our Minute to Win it Game for Christmas Parties.
If you have Tweens in the class for 4th or 5th grade also try Best Minute to Win It Games for Teens & Tweens too.
Snowman Stack
What You Need – Bag of Marshmallows, Chopsticks
This is another great Winter party game. Players must stack 3 marshmallows in under 1 minute. They use chopsticks to build up their snowman.
Make it easier or harder based on the player's age. Younger kids can use oversized marshmallows and older players can use mini-marshmallows. If you have a mixed age group use the regular size marshmallows.
Tip: For players that have a hard time using chopsticks, we use cheater chopsticks for our kids. It's a simple reusable plastic piece you put on the end of your chopstick so it's easier to use.
For more Winter party games visit our Favorite Winter & Christmas Minute to Win It Games.
Cup Stacking
What You Need – 42 red solo cups.
First, split cups into two groups (21 each) and have two children compete against each other.
Kids have one minute to unstack the cups and create a pyramid then restack the cups back into each other.
Use the timer on your phone for this and write down the time they finish. At the end look at the times to find a winner. Just add more cups if you want to have more than two kids compete at a time.
Tip: when stacking cups up don't press them tightly together or they can be hard to get apart.
Drop in the Cup
What You Need -5 Solo cups and 10 ping pong balls per player, masking tape
This is a Minute to Win it Game for Tweens so try this with older 4th or 5th graders.
Each player or a team of two players together is given 10 ping pong balls. When the timer starts players need to roll their ping pong balls and try to get all their balls to land in a cup in 1 minute.
If you roll all your ping pong balls and still have time on the clock players can pick up balls that fell on the ground and keep going.
The winner is whoever gets the most ping pong balls in the cups in 1 minute.
Spoons
What You Need – box of plastic spoons, 24 ping pong balls, 8 small paper bowls –
This game is for four kids at a time. Give each a spoon and two bowls. In one bowl add six ping pong balls. Kids have one minute to try to transfer the ping pong balls to the other bowl using only the spoon in their mouth. They may not use their hands.
For Winter Parties pretend the ping pong balls are snowballs.
Straw Race
What You Need – box of straws, and items to race, blue painters tape
This game can be customized by the time of year the party happens. For Halloween get some spider rings cut off the ring part and you have a spider to race. For, Winter parties use cotton balls for snow and Valentine's Day candy hearts.
At a long table in the classroom put down blue painter's tape (it shows up well & doesn't stick to the table) at one end for the finish line. On the other side of the table have two kids line up with a straw and they have one minute to race their spider to the finish line by blowing on the straw.
TIP: If you want to stay socially distanced have each child at a different table with two people watching to see when they cross the line with their spider.
Don't forget to check out – 20 Easy Minute to Win It Games for Kids and Best Minute to Win It Games for Teens & Tweens
I hope that you have found a few easy indoor party games for kids that will be perfect for your next school party. All these classroom party games are simple to put together and have been a hit at my kid's school parties. I hope your kids will love them too.
Overwhelmed by the idea of throwing the class party? Make it easy on yourself by ordering the My Classroom Party Box. You'll get 3 games, 1 craft, and decorations. So there is nothing to plan just open the box at the party and play. It's the perfect mom hack for room parents.
Get free shipping using my code HAPPYMOMHACKS at checkout too!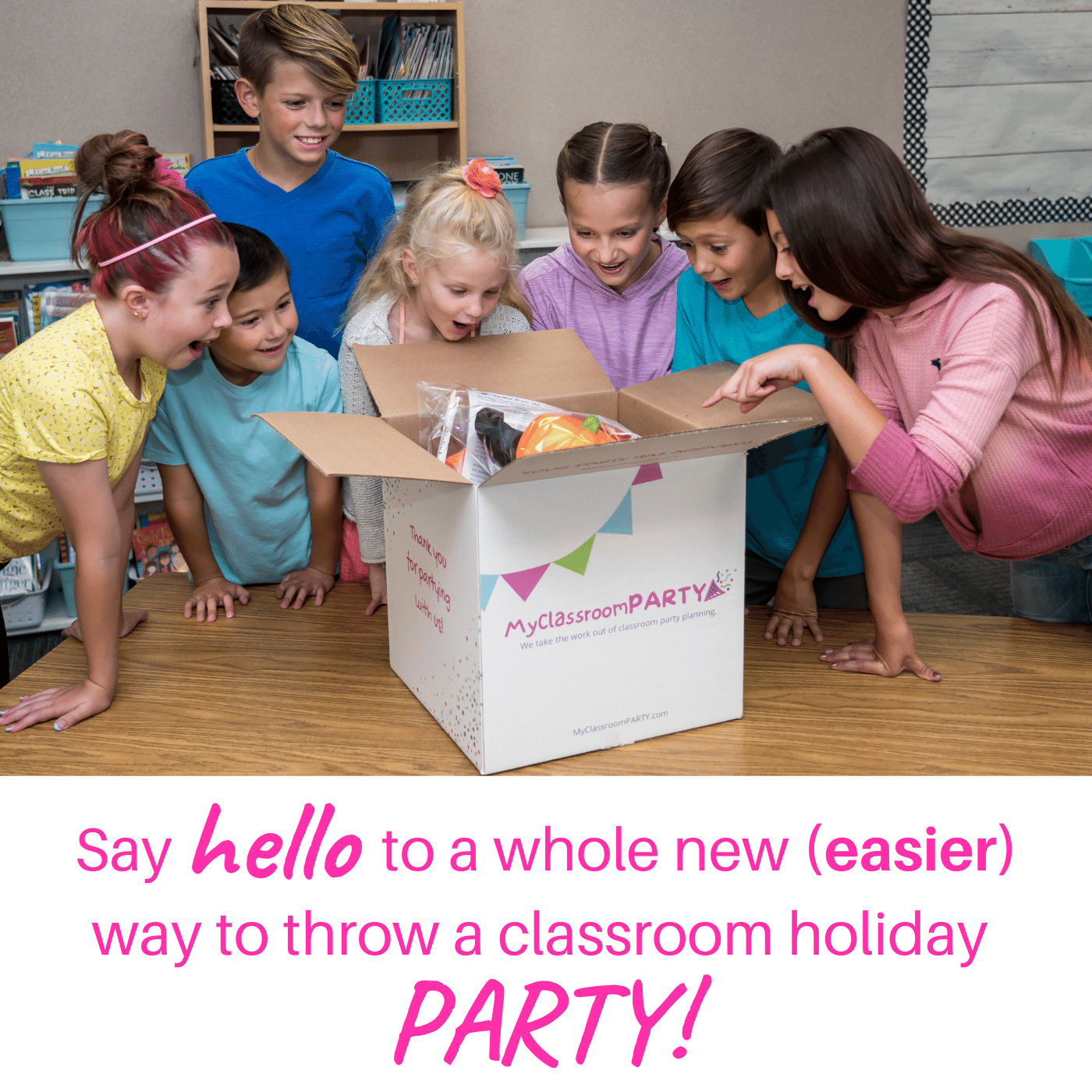 Family Game Night
Plan a fun family game night at home or play these games once a month in the classroom. Our Family Game Night Planner includes 12 family game night ideas for each month of the year plus tips, food ideas & prizes.
Just print out the Family Game Night Planner and you're ready for an awesome night at home with the kids.
More Party Games for Kids & Activities
Need more fun ways to keep the kids busy both at school and at home? Visit our Kids' Party Page and get inspired by some of our favorite activities for kids listed below.
5 Halloween Mystery Boxes for School Parties – Quick Halloween Sensory Game
Free Printable Christmas Games for Kids – 7 Printable Holiday party games
15 Awesome Balloon Party Games for Kids-Cheap group games with Balloons
30 Easy & Fun Birthday Party Games for Kids -Find the perfect Party Game for your Kids birthday
Zoom Games for Kids at Home & Classroom – Virtual Games to Play with Kids
Virtual Birthday Party Games & Ideas for Kids on Zoom – How to Throw a Virtual Party for Kids
Fun Rainy Day Activities & Indoor Games for Kids – Keep your kids busy indoors when you can't go outside
If you have some great indoor party games for kids and want to share them please leave them in the comments for us all to see. I love to learn from my readers.
Did you try these games? Let us know how it went in the classroom. Have a fun school party!!
If you enjoyed this article become part of the Happy Mom Hacks Community where we strive to make a mom's life easier. Get our weekly newsletter with fun kids activities, family travel ideas, easy weeknight meals, household hacks, and more.
Bonus, you'll get our free printable Would You Rather Questions for Kids to play in the classroom or at family game nights.
Want a fun laugh every day? Join my Facebook, Twitter, or Instagram page and get your daily dose of mom jokes, travel tips, kids' activities, and more.
Are you wondering where to get the items you need for the games? I gathered a few of them below to make it a little easier for you.
Don't forget to Pin this article for later.
More Happy Mom Hack Articles:
20 Easy Minute to Win It Games for Kids (here)
5 Halloween Sensory Boxes You Need at Your Next Halloween Party (here)
Get Organized for Kids Activities with These Free Printables (here)
25 Easy Family Dinner Ideas for the Mom on the Run (here)
Road Trip Planner Tips Every Parent Needs to Know (here)
Energy Balls – A Quick After School Snack (here)
15 Best Dollar Store Travel Gadgets for You Next Family Vacation (here)
10 Most Popular Birthday Party Ideas for Boys (here)
Fortnite Birthday Party: All the Supplies & Ideas You Need (here)
9 Awesome Weekend Getaways in the Midwest with Kids (here)