Looking for a fun Christmas or Birthday gift for kids? We love the idea of giving unique subscription box gifts! Kids will have fun new toys, cooking recipes, STEM projects, or books to look forward to, not just on their Birthday or Christmas, but each month.
Subscription boxes for kids are cool kits that they will receive at a specified time each month or on a special day. This is what makes them unique gift ideas – it's a gift that keeps on giving.
Stop worrying about what to give your grandchild or the special kid in your life this year. Check out these unique subscription box gifts and get inspired to give something that they will be excited about all year long.
This post contains affiliate links. If you choose to buy something using my link, I earn a small commission at no extra cost to you. For more information, see my disclaimer here.
Unique Subscription Box Gift Ideas for Kids
There are many types of subscription box gifts to give. All of these are great ways to get your kids off electronics to play, learn, or cook at home. Not only are these fun gifts ideas for birthdays and holidays, but they are also a great family activity at any time of year.
Look through and find the subscription box gift idea that fits your child and get them excited each month to open a box of fun.
Toys & Activities Subscription Box Ideas
Green Kids Crafts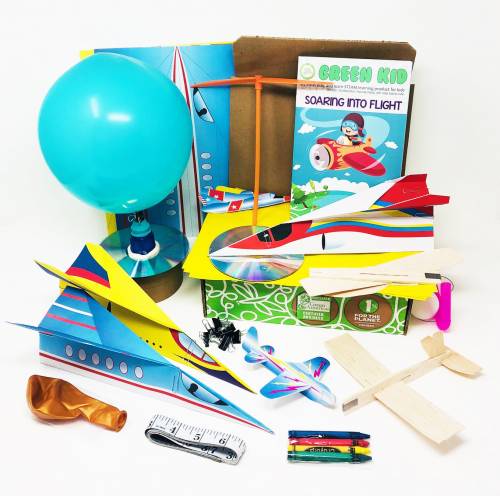 The Green Kids Crafts subscription box combines Art & STEM to make super fun activities for kids with a green twist. These activities were created by an environmental scientist to engage kids to promote creative learning at home.
Each box will have 4 to 6 activities plus a twelve-page magazine. The activities are age-appropriate and made for kids age 2 to 10 years old.
Take a look at the Green Kids Crafts and see if there is a box your child will love. Use our coupon code to save money on your box.
Join today, and save 10% on any new subscription.
Fun in the Box
This subscription box is just as the name says, Fun in the Box. Each box contains 3 to 5 kid's toys, crafts, and games that are all unique and not widely on the market. A focus of the box is to have at least one item to help foster playtime with Mom and Dad.
When you order, you will add your child's age to make sure the items are age-appropriate. You can then choose to give the box every three months or for a specific birthday or holiday.
How excited will your kids be to get new toys every three months? Use the code below to get a discount on Fun in the Box.
Use code FUN10 for 10% off sitewide!
Sports Box Co
Do you have a sports-loving kid? Sports Box Co. has created boxes filled with sports games, gear, collectibles, snacks, and more. You can choose a specific sport or an all-sports mystery box.
The sports to choose from include basketball, football, baseball, softball, hockey, and soccer. Choose your child's age to make sure they get an age-appropriate gift going up to age 13.
We like the flexibility of the Sports Box Co. as you can choose from sending gifts one time or every 3 months, 6 months, or 12 months. This keeps kids actively playing the sports they love.
Creation Crate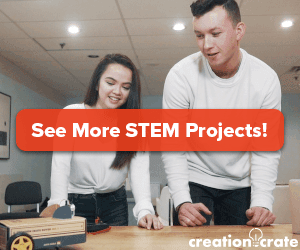 Get your kids learning with hands-on projects that will teach them coding and electronics. The Creation Crate includes all the components needed to create and program projects like light-emitting diodes (LED), Ultrasonic Sensors, Breadboard, Circuits, and more. It's pretty cool for your techy kids.
We've made a cool rubber band race car (pictured above) and Mood Lamp so far and had a great time putting them together.
Many lesson include online videos with step-by-step directions to help complete and learn more about the monthly project. This was really helpful when making our mood lamp.
The suggested age is 12 and up or 8 years old and working with a parent which seemed accurate to us using the kit at home.
Help get your kids ready for the jobs of the future while having fun at home with the Creating Crate.
EXCLUSIVE OFFER! Packages At Only $22.49 Per Month! Shop Now! For A Limited Time Only At www.creationcrate.com !
Book Subscription Box Ideas
Bookroo
Give the gift of reading with the bookroo subscription box filled with new books each month. The books are chosen based on your child's age from birth to age 10, starting out with colorful board books and ending with chapter books for the older kids.
Help your kids build a love of reading with fun books that they will want to devour as soon as they arrive. Look through the bookroo site and see if these books will be the gift you've been looking for.
You can purchase a single box or subscriptions of 3 months, 6 months, or 12 months. Use the BookstoLove code to get 15% off.
Cooking & Baking Subscription Box Ideas
eat2explore
Do you enjoy cooking together as a family and trying new foods from around the world? If so, then eat2explore is perfect for your family. Learn about new cultures with your kids as you discover recipes from 17 different countries.
Each box contains 3 recipes, essential spices, a shopping list for fresh ingredients, a country brochure, and kid's activities sheets. Plus it has fun collectable passports, stickers, pins, and cooking tools.
Eat2explore is a fun way to spend time as a family at home learning cooking skills, trying new food, and exploring the world.
Use coupon code New15 to get 15% off your order.
Baketivity
Get in the kitchen to bake some sweets with your kids using the Baketivity Subscription box. What we love about this kit is it comes with all the ingredients you need pre-packaged and measured so baking with kids can be easy and fun family time together.
Each box also has easy to follow instructions and kids activities that go along with your recipe. From learning the history of chocolate to all about bugs, they will love the games and worksheets.
Baketivity has monthly kits but also birthday boxes and holiday kits for a one time gift. Bonus, a free apron is included in every order.
Did you find a fun and unique subscription box gift idea for your kids? Whether it's Christmas or birthday gifts, kids will love getting something new each month and you'll love that they're off the electronics.
More Birthday & Holiday Gift Ideas
Need more ideas for fun birthday and holiday gifts? We love to find unique and thoughtful gifts people will be excited to get from you.
Check out these helpful gift guides or visit our Holiday Page.
Hilarious White Elephant Gift Ideas for Kids & Adults – The perfect gifts under $20 for your Holiday
Hottest Tween Girl Gifts for 2020 – What Tween Girls are hoping to get this year.
Hottest Boy Gifts for 2020 – Top Gifts Kids Want this Year
Easy Self Care Activities & Gift Ideas for Busy Moms – Fun Relaxation Gift ideas Women will love this year.
Teacher Appreciation Gifts They Really Want – Gifts for Remote Learning Teachers too!
Budget-Friendly Hostess Gifts with Dollar Tree Items – So cute they'll never know how much you spent.
Be Ready for Christmas in 2020 – 24 Christmas Activities for Families while Social Distancing
Birthday Party Ideas
Prepare for upcoming birthdays by visiting our party page for fun birthday games, themes, and gifts. We even have virtual party ideas and Zoom Games when you can't be with friends for your birthday.
Want more great tips? Become part of the Happy Mom Hacks Community where we strive to make a mom's life easier.
If you enjoyed these gift ideas for kids get more family fun activities, easy weeknight meals, family travel ideas, birthday party ideas, and household hacks by joining the Happy Mom Hacks community weekly newsletter.
Bonus, you'll get a free printable Daily Schedule for Kids to make your life more organized and less stressful.
Follow me on Twitter, Facebook, and Instagram for family travel ideas, kid's activities, household hacks, and fun parenting humor to give you a laugh each day.
Don't Forget to Pin This
Most Popular Post on Happy Mom Hacks